(Pinterest pic...couldn't find original source)
So,
last week
, I directed you to the website
Impress Your Kids
for a great tutorial (on ahomemade gift idea) and to be inspired for Advent ideas. Well, guess what? Although I'm a subscriber, I sometimes get behind on fresh reads from my favorite sites. In doing that, I didn't realize that Amanda (Impress Your Kids) has a downloadable Advent book
"Truth inthe Tinsel"
complete with daily lessons and ornaments (that can be made with household items)! Best part....it's only $4.99 and you can download it IMMEDIATELY! "Yeah, but it's already December 6!" No sweat! She has alternate schedules so that you don't have to feel pressured to complete all 24 days. So, go there NOW (well...when you finish reading this blog, first) ;-)
Speaking of "Truth in the Tinsel", two of the lessons from the last few days have really got me thinking. One day, we learned about Gabriel's message to Zechari
ah regarding the joyous news that he and his wife would have a baby, even in their old age (
Luke 1:5
-25
). Zechariah doubted, and as a result, the angel shut his mouth so that he would not be able to speak until John (the baby) was born.
(Zechariah ornaments my boys made from "Truth in the Tinsel")
The next day, we learned about Gabriel's message to Mary, that not ONLY would she conceive though she had not "known" a man, but that her son would be THE SON of the Most High (
Luke 1:26-38
)! And her words? "Be it unto me, according to your word." She may have been "troubled" by the saying, but she had no disbelief.
(Ornament made by my oldest)
Now, when I contrast those 2 messages, it seems more likely that Mary should have doubted, for her news not only seemed impossible, but also a little "lofty", whereas Zechariah's news was more on the "highly improbable" list. But how many times do we do this...doubt something that is "highly improbable" at best (or worst?)?
I wonder how many times that our doubt has resulted in us missing opportunities to proclaim knowledge of God's hand at work while it was happening or about God's peace while we were waiting for the promise. Maybe God is still going to "do" as He promised, but because of our doubt, we miss being able to give Him glory in the meantime.
I so want to be like Mary - when faced with joyous (though maybe intimidating or overwhelming) news - that I
sing and praise
even before there is evidence of the arrival of God's promise. I don't want to have "nothing to say" or be unable to speak of what I see God doing because I doubt!
Just BELIEVE!
Homemade Gift #5
Are you enjoying the homemade gifts from the last month? I know they are nothing fancy. I don't know how to sew, I don't knit, so I have limitations with time and knowledge as to what I can do. But I do enjoy the little bit that I DO get to make!
This week's idea is very easy. I like scrapbooks (have NEVER made one)...but I LOVE photo books that you can put together electronically on various sites. This year for my Want, Need, Wear, Read gifts, each of my 3 boys are getting a photo book filled with photos from a previous year of their life (can you say, "someone neglected keeping up with baby books"?).
I've used a few different photo sharing sites, but so far, my favorite is
Shutterfly
, both for quality, affordability (especially with discounts this time of year), and ease of putting it together (which, with 3 boys ranks pretty high on my list of importance). I especially love their
custom path
.
Because of a recent shipping special, I also ordered some extra Christmas cards from them (I'd rather spend my money on a product to qualify for free shipping than to pay for shipping!) They have some lovely
Christmas card designs
as well as lots of other designs in their
collection
(maybe for a New Year's card if it's too late for you to do a holiday card?).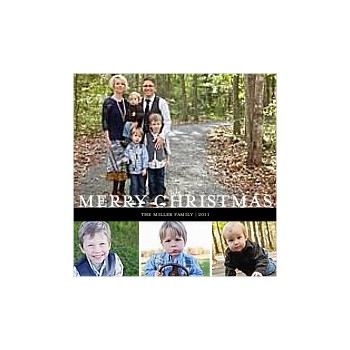 Family Gallery Christmas Card
Take care!
Ashlie